Open letter to Dilyana Gaytandzhieva
Veröffentlicht (Aktualisiert: ) in Open letter. Schlagwörter: Bellingcat=Propaganda, Dilyana Gaytandzhieva, Everything is a spook, Gaytandzhieva=Propaganda, Information War.
Thesis:
At the current level of the information war, Hegelians can no longer recognize reality and therefore regress from the analysis of the objective and absolute spirit to the subjective spirit. The philosophy of the pure subjective spirit, however, is Max Stirner.
Society becomes incapable of empathizing and mediating with the other, the condition of self-reflection, and remains with the mediatorless, egoistic ego.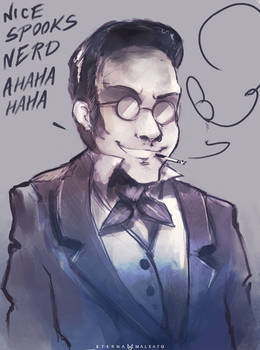 Open letter to Dilyana Gaytandzhieva:
Dear Ms. Dilyana Gaytandzhieva,
I still wonder how a Bulgarian reporter, who until then did not attract any attention, suddenly obtains various documents captured through hacking and reveals an arms pipeline to Syria, which is framed by Azerbaijan (Cf. Press release Silk Way Airlines) as Armenian propaganda against Silkway Airlines.
The only rebuttals that can be found on the Internet are some sponsored content posts. One of them is no longer available – after I made fun of the "sponsored" before the term "content" under Peter Zeihan's Twitter Account. Bellingcat used the word "coincidence" about six million times, so this rebuttal is not particularly valuable either:
Damn.
After this publication for the well-known Bulgarian magazine Trud, you were apparently interviewed by the Bulgarian intelligence service, lost your job, and have since been running a Russian propaganda site targeted at a New Right milieu.
I have a couple of questions concerning your CV, the obtainment of the documents, and the story itself and would suggest Prinsengracht 323, 1016 GZ Amsterdam, May 23rd at 13:12 as a meeting place and date. You can recognize me by the fact that I wander around Amsterdam rioting.
Best
Laemmergeier
Notabene:
What I find particularly interesting is the fact that Dilyana now lives in Georgia – a country that is occasionally mistaken for a US state, bullied by Russia and bored into taking sides by Azerbaijan and Armenia.
Analysis of Dilyana Gaytandzhieva thesis:
Due to the technical landings of the cargo planes and the fact that ISIL looted the weapons depots of Kurds, the Russians can claim that the USA supplied ISIL with weapons and that this can be traced back, while the USA points to the gaps in the tracking analysis. Ultimately, ideology decides which side the scientist believes: BND, CIA, or FSB? Deutsche Welle, Voice of America or Russia Today?
The bottom line is that all the journalists and professors have no idea what they are talking about. Maybe one or the other journalist has a source inside the intelligence services (Cf.: Carl Bernstein – The CIA and the Media), I guess Julian Röpcke knows BND agents, but whether the services are telling him the truth, he doesn't know either.