All for the sake of oil? Ines Berger: Azerbaijani gas, multiple sector-clusterfuck & dubious "logistics" companies
Veröffentlicht (Aktualisiert: ) in Geopolitik, Intelligence, Investigativjournalismus, Polemik.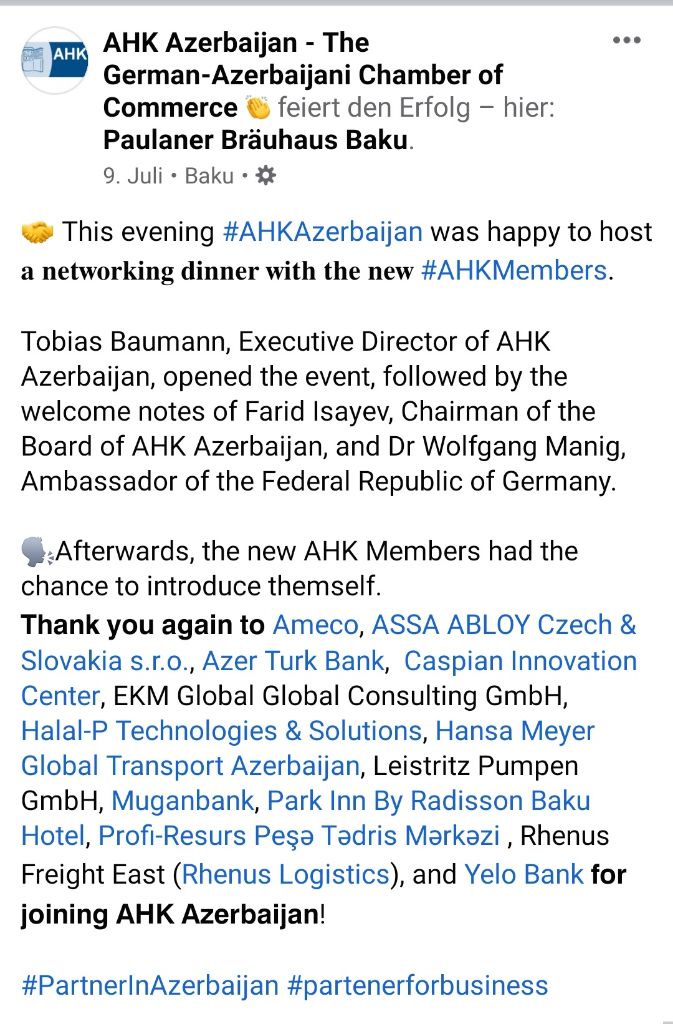 Raw Version/Analysis

SOURCES
Brothers in Crime (Berlin).
This somewhat dusty hottake by Wolfgang Pohrt has already been used on this blog several times and no research object is better suited for a sociological-qualitative proof of his theses than an analysis of the Azerbaijani Laundromat by a former petty criminal. How much of it is an acting show to suit the autoethnographic point of view, everyone may decide for himself. Back to Azerbaijan: Why is the Turkish Caucasus nation so well suited for the analysis of the intertwining of mafia structures with the legal economy, the disintegration of classes into a universal lumpenprolitariat, as described by Wolfgang Pohrt?
Well, Azerbaijan, unlike the Corona mask affair, is not situationally dependent on a pandemic. Azerbaijan will still exist in 10 years. The country lies geostrategically important between Iran, Turkey and Russia, is ruled with a hard hand by its former KGB clan, and Stalin has actually left the small Turkic state enough oil to build up a modern army, conquer Nagorno-Karabakh, finance an oligarch caste and make the whole theater invulnerable via bribes to the EVP. Moreover, Ilham Aliyev manages to keep his country in a perfect balance between Russia, the West and Turkey, thus guaranteeing the independence of his nation-state: With Russia, Baku shares the money-laundering channels. Turkey and Azerbaijan are considered one nation in two states, while the double agent Aliyev makes Azerbaijan available to the West for reconnaissance missions against Iran and uses the state-affiliated Silk Way Airlines to carry out arms deliveries to NATO proxies in Yemen and Syria. Who leads whom in this triangle remains to be seen. What makes the country so interesting for a Brothers in Crime analysis are the oil billions, which kleptocratically end up in the pockets of the Aliyev clan. Pretty much everything in Azerbaijan, even Silk Way Airlines, is controlled by the ruling family. Nevertheless, they maintain good connections to the West and would like to invest their money profitably in the Western real estate market (push prices ford ordinary Germans up: thanks, CDU!). So the money has to be laundered, politicians bribed, and real estate bought. Where does the legitimate consulting business start and where does it end with a warrant for corruption? The line is hard to draw when, as has already been described on this blog, payments to politicians are accompanied by votes on human rights violations in the Council of Europe or by election observation missions. It is precisely this blurring of the line between real and shadow economy, capitalist and mafia boss, which was so immensely important to Wolfgang Pohrt in his analysis of postmodern late capitalism, that becomes manifest in the Azerbaijani laundromat.
Or, as in the present analysis: on the basis of the entanglements between the AHK, Ines Berger, Elsham Musayev, Ramazanov and Enrico Sindulka, which are speculatively traced back to the Azerbaijani Laundromat.
However, who is Ines Berger, connected with so many companies and shell companies of persons from Eastern Europe and the Caucasus? According to internet research, all her connections can be traced back to 'Berger Immobilien und Finanzierungen'. The company's website reveals that Ines Berger holds a degree in finance and, as an investment advisor and real estate agent, has apparently deliberately chosen a Russian oligarch target group, since her colleague Igor Taranov is specialized in Russian law. In addition, as already mentioned, she is the managing director of several companies and is in contact with various people from Azerbaijan. Should a money laundering machine be revealed, which Laemmergeier.info speculatively assumes, it would prove once again the fact that Russian and Azerbaijani oligarchs exploit the same money channels.
Even a superficial background research on Ines Berger and the companies connected with her points to a large network of companies and persons connected with them, which naturally lead to other enterprises. Since the editors think they can identify a network with relative certainty, which spans from AHK, Ines Berger, Elsham Musayev, Rovshah Ramazanov to Enrico Sindulka, we will start with that before mentioning other companies in passing. This article is also only a preliminary analysis. Because of the hope to possibly get hints by the disclosure of the research material, and to work as transparent as possible, all sources were published here.
EKM Consulting Global GmbH is at the center of the network mentioned. It is owned by three Azerbaijanis: Kamala Musayeva (60%), Faig Rzayev (24%), and Emin Aliyev (16%). The managing directors are Ines Berger and Kamala Musayeva's husband Elsham Musayev. Only Elshan Musayev and Sabina Zulalova, an Azerbaijani "artist" (Cf. Bourdieu: habitus, class position & cultural capital; she is apparently also a business partner of Nigar Aliyeva) from Baku, perform publicly. The two have signed several contracts with city governments to map buildings in 3D models. Fittingly, 3D Scan24 GmbH is affiliated with EKM Consulting GmbH, whose managing director is Kamala Musayeva.
Most recently, EKM Global Consult entered into a cooperation agreement with a state-owned company (Asherliq) to redesign the power grid in the violently conquered territories in Nagorno-Karabakh – likewise a state contract. More or less, the company is an IT consulting firm with a focus on virtual reality. From virtual firearms training to support for oil exploration, EKM Global Consult seems to have a diverse range of business. For networking, they use among others the AHK Azerbaijan. However, Ines Berger, the only German in the company, seems to be a mere straw woman. The company is owned by Azerbaijanis, represented by Azerbaijanis, and almost exclusively takes contracts from the Azerbaijani state. Thanks to Berger, the company network is registered in Baden Baden and can thus use the AHK network, which it actively does.
The people behind EKM also run other companies, mainly in the logistics sector. Whether they also use the networks of the AHK for these is unclear, but likely. Mr. Elshan Musayev is also the head of the "Innovative Ideas and Initiatives Public Union" in Azerbaijan. According to D&B, EKM Global Consult GmbH has a turnover of only 118.018$. Both 3D Scan 24 GmbH and EKM Global Consult GmbH are registered to a private address in Baden Baden: Adlerstrasse 9. Currently, apartments are even available for purchase in the same apartment complex.
However, according to the website, KM GC GmbH is also registered at Schwarzwaldstrasse 139 in Baden Baden. Based on internet research, the office space is provided by IT + Media Group Gmbh. Dozens of companies are registered in this former barracks, as Google tells us. A call to the Media IT Center confirmed that EKM Global Consulting GmbH has indeed rented a mailbox and office space at Schwarzwaldstrasse 139 in Baden-Baden. Whether employees of EKM Global Consulting GmbH work in this building complex could not be confirmed or denied. The employee neither knew nor was allowed to disclose this information.
So far, EKM Global Consult GmbH seems to be a relatively unserious little IT consulting firm that earns just under $120,000 on a staff of two, with Sabina Zulalova's main job probably being to smile nicely. According to her Instagram profile, she lives a jet-set life: Moscow, Baku, Valencia, Munich, Stuttgart, Berlin, Asia, etc. big cars, Ritz hotel, classy restaurants pp.
With which manpower the company executes its orders, which apparently generate not much revenue, is unclear for the time being. The fact that the company mainly accepts contracts from the public sector and is involved in infrastructure projects in the forcibly conquered territories of Nagorno-Karabakh in no way improves the situation. Infrastructure projects are generally susceptible to corruption. In addition, government contracts in Azerbaijan are mostly a matter for the boss, since the Azerbaijani treasury is more or less Ilham Aliyev's private account. The first indications of a money laundering machine are thus already given: questionable business model, low number of employees, low turnover, private addresses, dubious tax advisor, infrastructure projects, state contracts and oligarchic country of origin.
It should also be remembered that an Emin Aliyev has a 16% stake in EKM GC GmbH. The 46-year-old clan member (8./1/1975) is additionally connected to French arms dealers through Industrial Technical Solutions (ITS S.a.r.l.), founded in Luxembourg in 2017, who apparently want to reconfigure their sales network in the Caucasus. Meanwhile, it is obvious that EKM GC GmbH has direct connections to the levers of power in Baku. The managing director of ITS S.a.r.l. is Marjorie Allo, who was already affected by the Malta-related Panama Papers leak through her position at AMMC Law. Probably, like Ines Berger, she is only a straw director. An American company from Houston with the same name, Industrial Technical Solutions LLC, is coincidentally involved in oil exploration. The list of circumstantial evidence may thus be expanded to include connections to the arms trade as well as to the kleptocratic ruling family: Oligarchs, arms deals, oil exploration, consulting services, infrastructure projects.
If you follow the company network via the very obliging website Northdata, you end up with Rovshah Ramazanov, who was once associated with EKM GC GmbH and is now affiliated with various strange logistics companies, such as Roy Logistics GmbH, Silk Way GmbH, and Fed Logistics GmbH. According to Northdata, he is, alongside with Muslim Musaev, the managing director of Silk Way GmbH.
A call to Muslim Musaev yielded the following information:
He originates from Moscow. His company rents cars (AML-redflag) primarily in Southern France and Spain. He speaks only English, no German. He wants to build a new life in Germany. Possibly his company will trade with watches and jewelry in the future. However, this is not yet certain and he denied the idea at the start of the interview.
According to his statement, he does not know Ramazonov. However, Ramazanov is the only connection of Silk Way GmbH (or Muslim Musaev) to the schemes of EKM Global Consulting GmbH. He repeatedly denied connections with Ramazanov, whose name was mentioned several times during the interview.
Interestingly, the name Musayev/Musyeva is relatively similar to the name Musaev. Nevertheless, Musaev denied any connections to Azerbaijan. While the surname Musayev is most common in Azerbaijan, according to relevant geomapping services, Musaev is a Russian name, which is spread throughout the North Caucasus – the same geographic region where Azerbaijan is located. Hence, the issue might be a transliteration problem related to the Latin alphabet.
Asked whether it was possible to rent a car, Musaev declined, as these were apparently rented out in France or Spain and were currently fully booked. When asked to what extent it would make sense to register a German GmbH for business in SW-Europe, although one does not even speak German, he had no explanation.
The interview went relatively unobtrusively, although he was inconsistent about his industry (watches) and could not explain why he was setting up a GmbH for a car rental business in France or Spain. Unlike in Ireland or the Netherlands, there are no significant tax advantages for newly established companies in Germany.
Assuming that a naive inquiry by phone does not lead to the truth and that Northdata is more reliable than the statement of a 32-year-old entrepreneur, a connection of Musaev to EKM GC GmbH Musayevs exists via Ramazanov. Whether the relative similarity of the name is a result of a family connection and transliteration problem could not be verified so far. In the context of arms trading (Emin Aliyev) and logistics (branch: Silk Way GmbH), Silk Way GmbH should not be confused with Silk Way Airlines, which as a state-affiliated airline supplied weapons to NATO proxies in Yemen and Syria. Whether there is a connection can neither be confirmed nor denied.
In any case, Ramazanov is connected with the now inactive Fed Logistics GmbH. The former managing director was apparently Achmadschah Zazei. Google searches lead to a basketball player of the Itzehoe Eagles born on December 5, 1986. In addition, Ramazanov and Prabjot Singh were managing directors. The address of Fed GmbH was Hageburgerstrasse 58 in Wunstdorf. Roy Logistics GmbH was registered there as well, a company also connected with Sindulca and Ramazanov. Moreover, Viktoria Turkot is the managing director of Roy Logistics GmbH. If you research their address, Auf den Pohlaeckern 15 in Lehrte, via Google, you will find Doka GmbH, an Austrian supplier and manufacturer of formwork and scaffolding, which generates an annual turnover of 1.4 billion euros. The website of Roy Logistics GmbH, which is even in Google mapped to the address of Doka GmbH, adorns among other things a blog with sample articles. You can't run your fake company website any sloppier than this.
Enrico Sindulka, on the other hand, is also a director of several British and German companies, such as Prius 500 LTD, El Castro LTD, El Sporta LTD and Berlin Helle GmbH. El Sporta Ltd. sells questionable diet pills through Facebook. Berlin Hellge GmbH as well as El Sporta Ltd. are also connected in an opaque company network with Jens 24 Ltd. as well as SL 24 Ltd. SL 24 LTD is a secretary of Enhanced Finance Solutions LTD, whose director Erik Simon works for the World Fund For Development & Planning, an aid organization active in the field of refugees, combating extremist ideology (to be precise: not their own NATO-bubble: #Afghanistan, #responsibility), peacekeeping, etc. and which is affiliated with the United Nations (UN-OSAA). In any event, according to Northdata, SL 24 Ltd. is enmeshed in a wild corporate network. For example, it is also linked to Successmotions Ltd. and Stillitis Ltd. Both are run by Ilse Stritesky, a 58-year-old entrepreneur from Maisach, which would mean a return to Germany. In addition, SL 24 LTD and Jeans24 Ltd. are connected to Azenor Ltd. of Thierry Lucas, a tech company from the beautiful Lake Constance, whose goal is probably to enable divers to talk to each other in the future. So much for the almost endless network of Enrico Sindulka.
What remains of this network analysis:
EKM GC GmbH is connected via Ramazanov to three logistics companies, which in turn lead to Enrico Sindulka. Logistics companies are relevant both in the context of Emin Aliyev's arms business as well as in the context of the oil business (heavy transports) and the reconstruction of Nagorno-Karabakh. Some of the companies' websites are unprofessionally structured, and various logistics companies associated with the same individuals are registered at the same addresses. In addition, a network analysis of Enrico Sindulka reveals further dubious links, such as that El Sporta Ltd., which apparently sells diet pills and is linked to Enhanced Finance Solutions Ltd. , affiliated with Erik Simon, a WFDP peacekeeper from Cyprus.
The two networks coalesce in the person of Ramazanov. Whether they are connected, and if so, to what extent, is impossible to say for sure at this point.
Back to Ines Berger.
If one traces her network more closely, which has not been done so far because she was considered to be a straw director, one ends up with further companies. For example, Royal Spirit Media GmbH, likewise associated with Kamala Musayeva, is directly connected to EKM Global Consult GmbH. The Royal Spirit is apparently a media company, which according to their website, for example, produced trade fair films for the Monaco International Luxury Property Expo 2019. The Musayev clan's company is registered at Schillerstrasse 19 in Baden Baden. CCM Capital GmbH, which is active in asset management, The Center Germany GmbH, which offers real estate on Immobilienscout 24 (969,000 euros, 89sqm; 480,000 euros, 111sqm), and Stillae Estate GmbH, which is equally active in the acquisition and management of real estate, are likewise registered at the same address. The overlapping of the address may be related to Ines Berger, or it may actually be real estate belonging to Musayev-Racket. Nevertheless, CCM Capital GmbH is demonstrably connected with Sergei Savelyev. Sergei Savelyev is deputy general director for international cooperation of the Russian state space company Roscosmos. In contrast, other companies managed by Ines Berger, such as Leonate GmbH of Leona Tsvetaeva, are registered directly to the address of Ines Berger's consulting company BIB: Vincentistr. 21 in Baden Baden.
Ines Berger is also in contact with Olga and Aleksandr Shlychkov through Balties Project GmbH. Aleksandr Shlychkov (born 2 January 1961) is a Russian sporting, public and cultural figure. He is President of the European Para-Taekwondo Union, member of the Para-Taekwondo Governing Board of the World Taekwondo Federation, founder of the Men of Spirit charitable foundation and chairman of the Link of Times non-commercial organization. Balties Project GmbH is registered at Lichtentaler Alle 56 in Baden Baden. A villa in which currently 5 rooms on 190 sqm could be rented for 2850 Euro. Whether this Russian PEP receives a salary that justifies the ownership of a villa in Baden-Baden is questionable.
To conclude the network analysis, we refer to Inter Ferro Alloys GmbH of Irina and Sergei Kraev and Irgor Portnjagin (persons involved could not be clearly identified, cf. research), which according to metalshub is active in titanium trading, has a poorly programmed website (red flag) and is registered at the same address as HCM Consulting GmbH of Hans Klaus Menzel. According to Northdata, Inter Ferro Alloys GmbH has a turnover of more than 17.1 million euros. Trading with metals is likewise a business in which the shadow and real economies merge.
Be that as it may:
Ines Berger manages the money of various Politcally-Exposed-Persons from Azerbaijan and Russia. In some cases, other companies of the EKM GC GmbH network (Royal Media) are registered at addresses that are also associated with companies belonging to Russian PEPs. Predominantly, most of them are asset managers or real estate companies. In some cases it is unclear who owns the real estate companies as a UBO.
What significance could these extensive network analyses have for EKM GC GmbH?
Well, the list of circumstantial evidence can be extended:
Questionable business model of EKM GC GmbH, low number of employees, low turnover, private addresses, dubious tax advisor, infrastructure projects, state contracts and oligarchic state of origin, company network spans strange media companies, questionable logistics companies, car rental companies, real estate companies and asset management companies. In addition, Erik Simon, a peacekeeper, is found in the wider environment through Ramazanov and Sindulca. The connection to his asset management company is established through a company that sells diet pills on Facebook.

The network of Emin Aliyev and Elshan Musayev has at this point of analysis everything a journalist's heart could desire:
Oil and arms deals, shell & front companies (logistics companies, media companies), financial investments (asset management companies, real estate companies), a kleptocratic nation on a shopping spree in Germany, and an extremely questionable networker (Ines Berger) whose business seems to be specifically oriented towards Eastern European and Caucasian oligarchs.
So what's it all about? Oil exploration and VR training for soldiers? Legitimate arms deals with France? Or another money laundering machine of the Aliyev clan? Illegitimate arms deals through logistics companies, or just a peacekeeper's asset management?
Those questions shall be left for the second part. This article concludes with questions about questions and hopes to attract the necessary attention to get answers.