The dubious connections of the Union faction – Director of the State Oil Company of Azerbaijan Republic (SOCAR) Elmar Mamedov under suspicion of (money laundering) offences
Veröffentlicht in Investigativjournalismus. Schlagwörter: Aserbaidschanischer Laudromat, Deutsche Bank, Eduard Lintner, Karin Strenz, Korruption.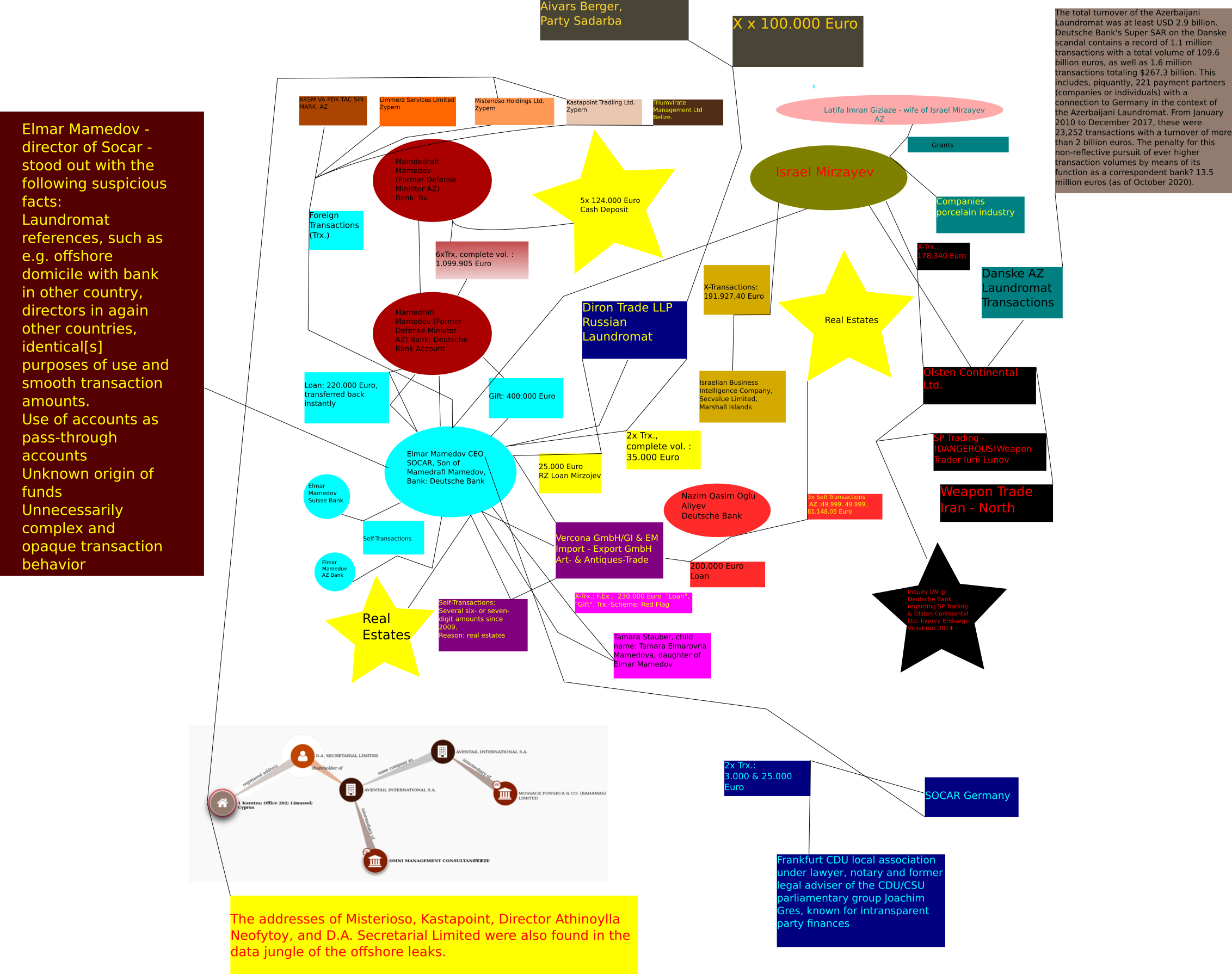 Download Chart:
The questionably close relationship between the EPP/CDU/CSU and the corrupt oil dictatorship of Azerbaijan is a well-known fact. The former CSU politician, drug commissioner of the German government and lobbyist Eduard Lintner, for example, channelled at least four million euros to European politicians via six British shell companies (Hilux Services, LCM Alliance, Polux Management, Metastar Invest, Faberlex LP, Riverlane LLP) with accounts at an Estonian branch of the Danish scandal bank Danske through his German companies.
Karin Strenz and Eduard Lintner also served as election observers in Azerbaijan. A simple YouTube search led to a video of Azerbaijani state television showing the former GDR citizen praising the election results of the Caucasus nation with a winning smile on her lips as legitimate and in accordance with international standards.
In October 2013, Eduard Lintner organised an election observation mission and received 61,000 euros from Baku only two weeks later. In stark contrast to Lintner, Anar Mammadli, founder of the Election Monitoring and Democracy Studies Center in Baku, considered the Azerbaijani elections illegitimate and was arrested on trumped-up charges. The CDU politician was paid USD 56,000 two days later.
Karin Strenz made at least 22,491 euros through Line-M-Trade, but was only reprimanded by the Bundestag, although she did not properly disclose the windfall, and was ultimately fined a minimum of 19,000 euros. The bottom line is that she still made a profit of at least 3,491 euros. The current assets as well as the liabilities of Line-M Trade, however, amounted to approx. 150,000 euros each year, whereby the concrete determinations of these enormous sums have not yet been conclusively clarified. The results of the most likely unsuccessful house searches at Strenz and Lintner, which took place in January of 2020, are not yet publicly known. Merkel's backbencher was also a board member of the German-Kazakh Society. She died in March 2021 on a return flight from Cuba to Germany.
Already in 2012, the Frankfurt CDU local association under lawyer, notary and former legal advisor of the CDU/CSU parliamentary group Joachim Gres, known for non-transparent party finances, received an illegal party donation totalling 28,000 euros (divided into 3,000 & 25,000 euros) from the German representative office of the State Oil Company of Azerbaijan Republic, the Azerbaijani oil and gas company. Its director Elmar Mamedov said at the time that contact with politicians was "important in view of the geopolitical significance of Azerbaijan and SOCAR" (Elmar Mamedov). After all, Günther Oettinger (CDU) pushed through an Azerbaijani pipeline against the competing Nabucco project. Turkic states like Azerbaijan and, prospectively, Turkmenistan are supposed to reduce Europe's energy dependence on Russia. At the same time, however, they undermine European democracy through caviar and corruption. This also explains the similarities between Gurbanguly Berdimuhamedow and Andi B. Scheuert.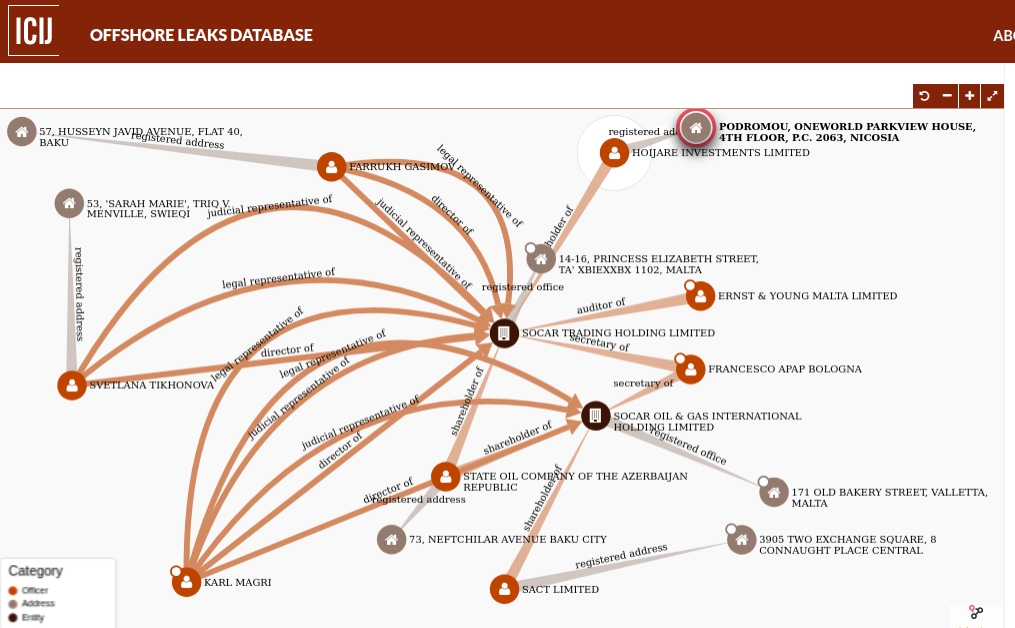 The Azerbaijani financier of the post-modern drone war in Nagorno-Karabakh – SOCAR – also organised propaganda tours of German parliamentary groups chaired by Karin Strenz. The former vice-chairman of the CDU/CSU parliamentary group, Michael Fuchs, has also been spotted at the group's headquarters in Baku. Laemmergeier.info is currently working on a list of all CDU/CSU members with a preference for Azerbaijani caviar.
In the days when Eduard served as an election observer in the South Caucasian dictatorship of Azerbaijan, drinking champagne and eating fine caviar with Karin Strenz, journalists and opposition figures such as Mehman Huseynov and Khadija Ismayilova were tortured with electric shocks, blackmailed with sex tapes and put in jail, while European citizens from Bosnia were detained – sometimes under slave-like conditions – in the country for the dictator's construction projects.
In addition, Lintner ran dubious shell companies with the Gesellschaft für deutsch-aserbaidschanische Beziehungen mbh and Line M-Trade, which, as lobby organisations, provided European politicians with questionable consultancy honoraria, while at the same time ensuring their remuneration with positive evaluations at election observation missions and bought votes on human rights violations in the Council of Europe. In total, Eduard (according to previously secret Deutsche Bank documents) transferred €52,216.89 from the accounts of Line M-Trade to his private account between 16 December 2014 and 31 January 2017, with the aid of payment purposes such as salary, cash expenses or compensation, whereby the term cash expenses is difficult to trace anyway, probably a trivialising term for caviar pocket money.
While the clan of the former Bolshevik and KGB agent Əliyev plundered the country, Lintner and his friends, such as the husband of the former Director General of Unesco Irina Bokova1 Kalin Mitrev2, the former EPP leader Lucas Volontè3, former President of the Parliamentary Assembly of the Council of Europe Pedro Agramunt Font de Mora as well as CNN journalists like Sager Eckart4 gladly turned a blind eye or two when the spendy autocrat, like his father before him, was elected president with results between 80 and 90%. In this context, a look at the task of the Parliamentary Assembly of the Council of Europe is not uninteresting.
The CDU politician involved, Karin Strenz from Mecklenburg-Western Pomerania, who, due to her own life in the GDR, should actually be familiar with KGB dictatorships, cynically voted in her parliamentary work in favour of combating undeclared work (15.12.2016 – Combating undeclared work: Yes): a vote against the actual productive working class.
Is corruption not considered a particularly reprehensible form of illicit work?
Be that as it may, after the scandal was uncovered, both delinquents were banned from the Council of Europe, however, the case against Eduard Lintner was dropped at the end of 2019 and Strenz only received a reprimand from the Bundestag and a fine of €19,000, although she demonstrably accepted at least €22,491 from the Azerbaijani money laundering machine – in addition to pleasant trips through the Caucasus. To make things worse, according to the Nordkurier, Wolfgang Schäuble, as president of the Bundestag, held his protective hand over the backbencher Strenz. At the same time, the Bundestag presidium under Wolfgang Schäuble has the sole right of action in case of suspicion of illegal party financing. In the light of the Karlheinz Schreiber affair, this is more than problematic.
The total turnover of the Azerbaijani laundromat was at least USD 2.9 billion. Deutsche Bank's Super SAR on the Danske scandal contains a record of 1.1 million transactions with a total volume of 109.6 billion euros as well as 1.6 million transactions totalling 267.3 billion USD. This includes, piquantly, 221 payment partners (companies or persons) with a connection to Germany in the context of the Azerbaijani Laundromat. From January 2010 to December 2017, these were 23,252 transactions with a turnover of more than 2 billion euros.
The penalty for this non-reflective pursuit of ever higher transaction volumes by means of the function as a correspondent bank?
13.5 million euros (as of October 2020).
As internal SAR documents of Deutsche Bank, exclusively available to the author, show, Elmar Mamedov, already mentioned above, is currently under suspicion of money laundering. His father Mamdedrafi Mamedov, the former Minister of Defence of Azerbaijan (1993-1995), effected six transfers of his own money from Russia since 2013, amounting to 1,099,905.00 euros. He " gifted " 400,000 euros to his son and also granted him a " loan " in the amount of 220,000 euros, which was repaid immediately. In addition, he paid out 5 times 124,000 euros in cash. The funds apparently originated from the rental income of a property in Russia, which is said to have brought him 10,000 euros per month since 1999, although the documents presented could not plausibly prove the total amount of the transactions.
His son Elmar Mamedov – director of Socar – attracted attention by the following suspicious activity:
"Laundromat" relationship, such as e.g. offshore seat with bank in other country, directors in again other countries, identical[s] purpose(s) and smooth transaction amounts.
Use of accounts as pass-through accounts
Unknown origin of funds
Unnecessarily complex and opaque transaction behaviour" (Deutsche Bank – AML Analyst, correction: author)
In August and October 2010, for example, he received two transactions totalling 35,000 euros from Diron Trade LLP – a firm involved in the Russian money laundering machine and the Nekrasov-Browder controversy, respectively. Diron Trade LLP also transferred a few hundred thousand euros to the Latvian Aivars Berger, a board member of the Sadarba party.
In addition, the director of SOCAR-Germany carried out transfers of own funds from Azerbaijan and Switzerland, transactions with GI&EM Import – Export GmbH under purposes such as "loan" and "loan repayment", as well as transactions with Tamara Mamedova under the purposes "loan" or "donation". For example, Diron Trade LLP transferred €25,000 on 26/08/2019, while the same amount was forwarded to GI & EM Import – Export GmbH on 31/08/2010 with the payment purpose "RZ loan Mirzojev". The payment purposes and the transaction behaviour indicate ideal-typical money laundering according to the FIU typology paper. Meanwhile, GI & EM Import – Export GmbH was renamed Vercona GmbH and, according to its website, trades with antiques and art – (as well as real estate) high risk goods in the context of financial crime.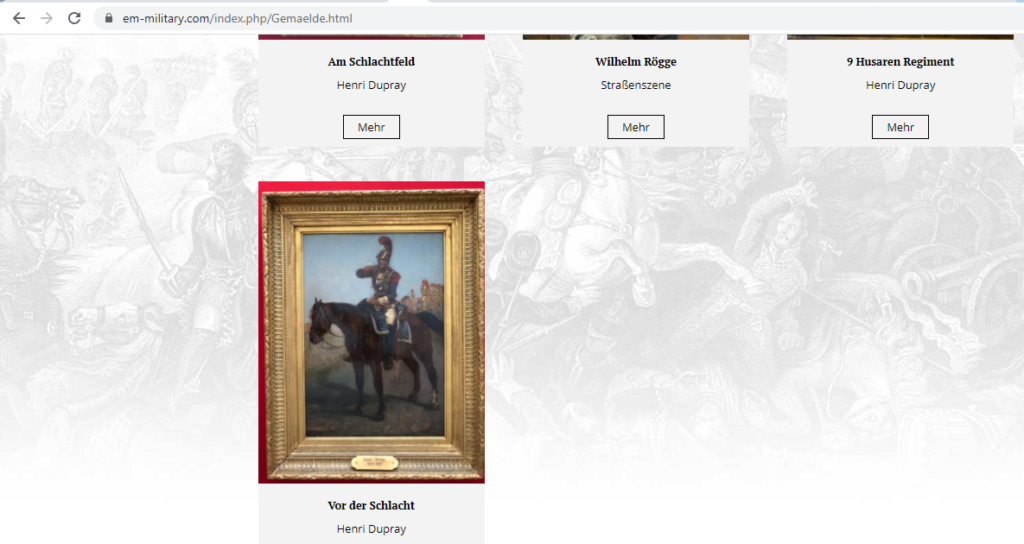 Since 2009, Elmar Mamedov has repeatedly transferred six- or seven-figure sums from the accounts of Vercona GmbH to his private accounts. He then used the money to buy real estate. Furthermore, international transactions with ARSM VA PDK TAC SIN MARK from Azerbaijan, Limmerz Services Limited from Cyprus, Misterioso Holdings Ltd., Kastapoint Trading Ltd. and finally Triumvirate Management Ltd. based in Belize were identified. Already the names of the shell companies such as Misterioso or Triumvirate reveal hubris. Moreover, the addresses of Misterioso, Kastapoint, the director Athinoylla Neofytoy as well as D.A. Secretarial Limited were found in the data jungle of the offshore leaks: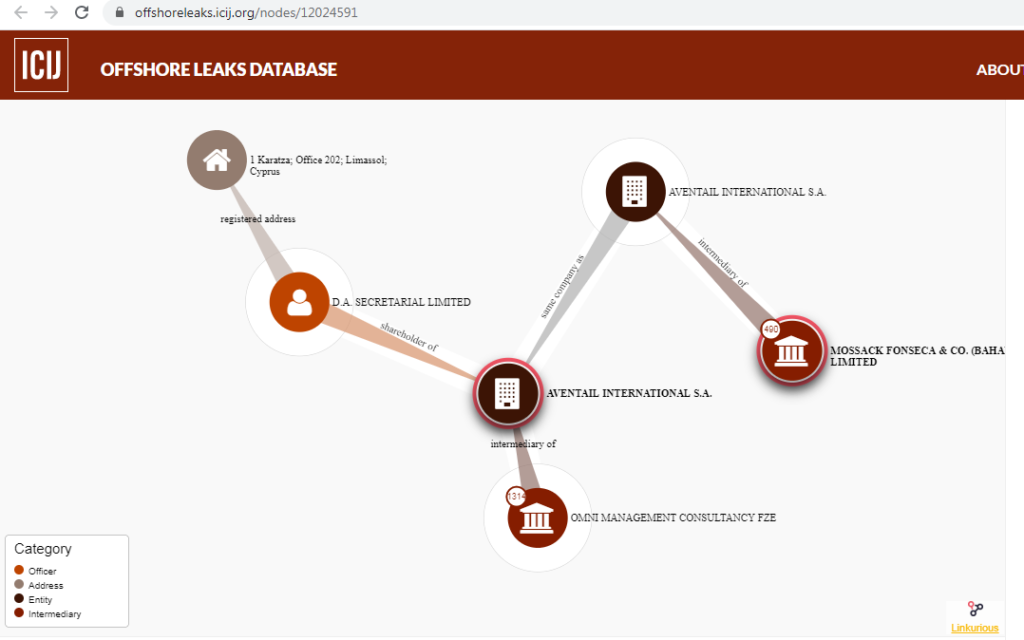 Looking retroactively at the account of the daughter Tamara Stauber, née Tamara Elmarovna Mamedova, revealed two gifts to her by her father Elmar Mamedov, only to subsequently pass them on to Vercona GmbH as a loan repayment. For example, on 12.07.2012 an amount of 230,000.00 Euros was credited as a gift to the account of Ms Stauber, on 27.07.2012 the same amount was transferred as a loan to the above-mentioned account of Mr Mamedov and on 08.08.2012 the amount was again transferred to the account of Vercona.
In addition, Vercona GmbH transferred a loan in the amount of 200,000 euros to Nazim Qasim Oglu Aliyev on 12 July 2016. The latter, however, made three transfers of his own money to Azerbaijan between 13 July and 20 July 2016 – e.g. on 13 July 2016 in the amount of 49,999.00 euros, on 15 July 2016 in the amount of 49,999.00 euros and on 20 July 2016 in the amount of 81,148.05 euros. The money was apparently used for the purchase of a property.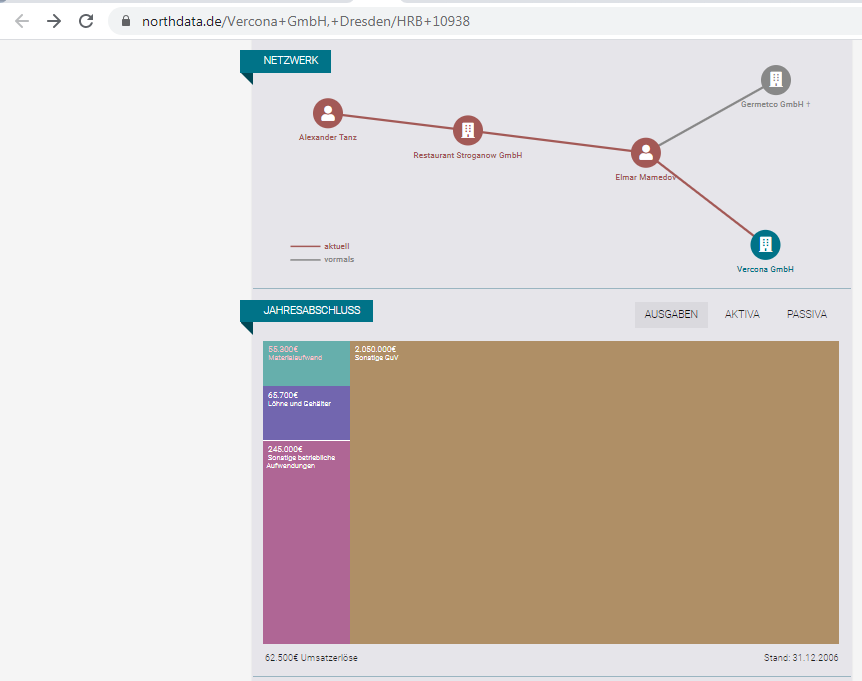 Also, according to internal bank documents, Elmar Mamedov was in contact with Israil Mirzayev, who enjoyed regular benefits from Baku on the part of his wife Latifa Imran Giziaze Mrazayeva. The money was promptly transferred to companies that were apparently active in the porcelain industry.
As if this were not enough of a disaster, Deutsche Bank received a query from the United Nations on 1 October 2014. The reason was a request concerning SP Trading on suspicion of embargo violations. SP Trading was run by the notorious arms dealer Iurii Lunov. In this context, information was also requested on Olsten Continental Ltd. which, together with SP Trading, was involved in an illegal arms trade between the People's Republic of North Korea and Iran as well as in suspicious transactions to Azerbaijan via Danske Bank. In the period from 26.03.2008 to 07.07.2008, credit notes totalling 178,340.00 euros were made to Mirzayev's account, the principal of which was Olsten Continental Ltd. Interestingly, between 17.11.2008 and 25.06.2010, he also received various credit notes totalling 191,927.40 euros from the Israeli business intelligence company Secvalue Limited based in the Marshall Islands.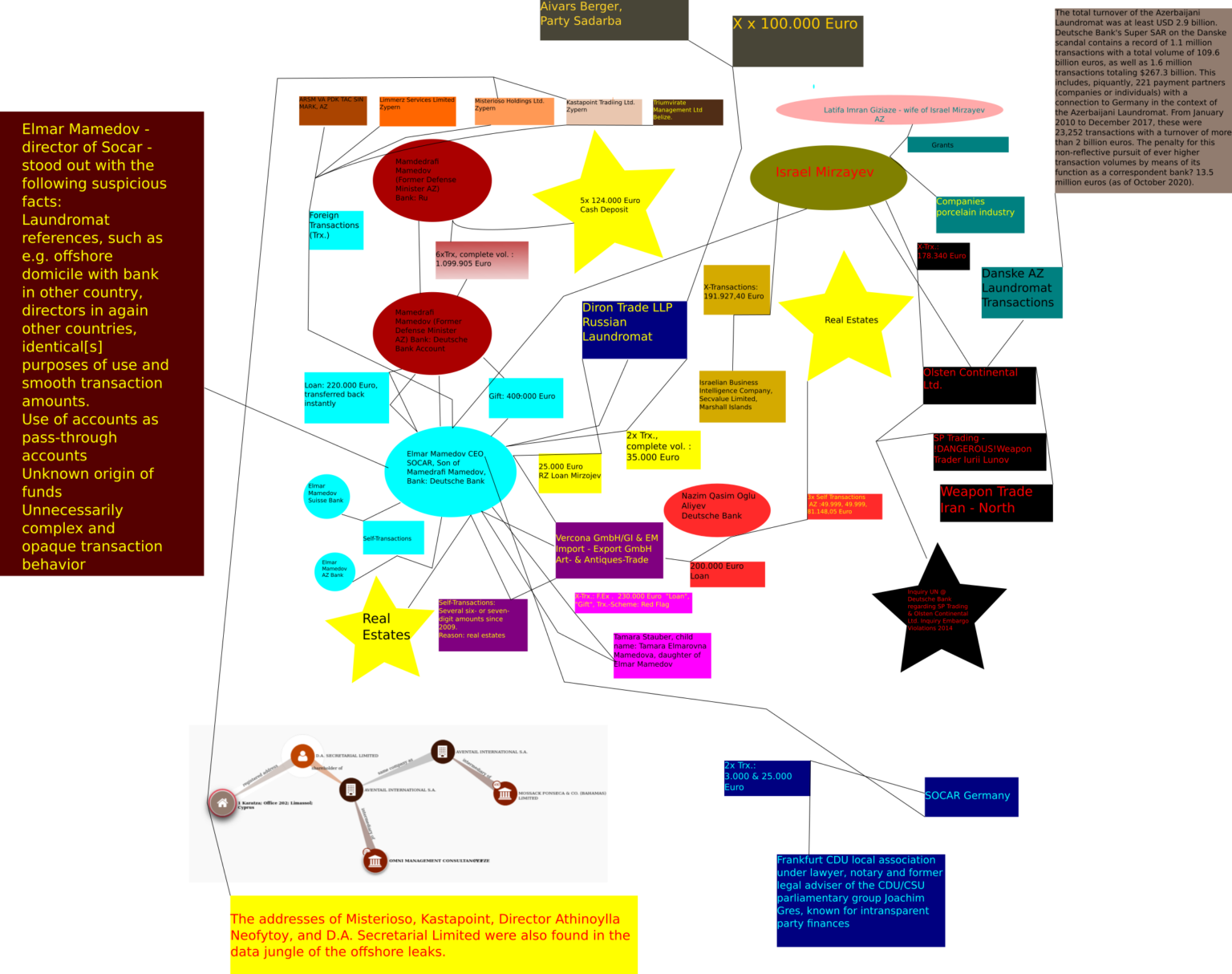 1) Irina Bokova is a member of the jury of the Nuremberg Human Rights Award
2) "The payment Mitrev received on Oct. 25 was just one of six. He received a total of €345,000 ($468,000) between 2012 and 2014 from three Laundromat companies to accounts in Bulgaria and Switzerland.[…]Today, he is a director of the European Bank for Reconstruction and Development (EBRD)." (Radu/Ismayilova/Mammadova – OCCRP)
3) Luca Volontè had received benefits totalling €2.39 million until 2014 originating from Azerbaijan, which were transferred to his wife's company account while he was the leader of the European People's Party.
4) "In 2014 Sager Eckart, a former CNN producer, received nearly €2 million ($2.6 million) in his United Arab Emirates bank account from Hilux Services LP." (Radu/Ismayilova/Mammadova – OCCRP) In this context, one should check the accounts of Jakob Augstein, who publishes with Asif Masimov a PhD student on behalf of the regime.