Incomplete list of CDU/CSU politicians with preferences for Azerbaijani caviar
Veröffentlicht (Aktualisiert: ) in Geopolitik, Expressionismus des Rechtsstaates, Investigativjournalismus. Schlagwörter: Aserbaidschanischer Laudromat, Deutsche Bank, Doktorarbeit, Eduard Lintner, Geldwäsche, Geopolitik, Gonzo-Intelligence, Hon.-Prof.Dr., Karin Strenz, Korruption, PhD.
Incomplete list of CDU/CSU politicians* with preferences for Azerbaijani caviar:
Florian Hahn
Marco Wanderwitz
Alexander Funk
Joachim Gres
Egon Jüttner
Axel Fischer
Nikolas Löbel
Thomas Bareiß
Mark Hauptmann
Eduard Lintner
Karin Strenz
Michael Fuchs
Michael Glos
Karl-Georg Wellmann
Günther Hermann Oettinger
Andreas Schockenhoff
Otto Hauser
Jan Metzler
Olav Gutting
Peter Brinkmann
Joachim Pfeiffer
Philipp Mißfelder
Eberhard Gienger
Hanns-Eberhard Schleyer
Guenter Nooke
CDU Frankfurt

The list will be expanded constantly. Hints? Write us: Redaktion@Laemmergeier.info

But Zeit.de knows: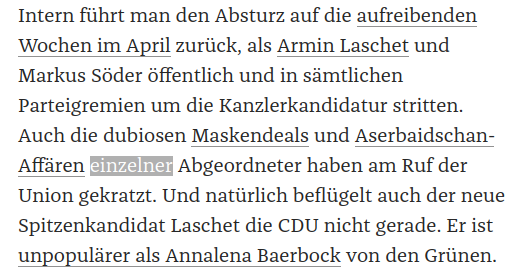 Influence on other key institutions*:
Humboldt University & IPS interns, or: Azerbaijani caviar buys research theses – incomplete list :
Peter Frensch (Vizepräsident der Humboldt-Universität)
Eva–Maria Auch (Inhaberin des Stiftungslehrstuhl "Geschichte Aserbaidschans")
Katrin Kunert (Linke) & Asif M.
Steffen-Claudio Lemme (SPD) & Nurlan Hasanov & Kristal Absheron & Volkssolidarität & IGAplus
54 IPS interns from Azerbaijan have been employed in the Bundestag since 2008. The Humboldt University in Berlin received more than one million euro from Azerbaijan in 2017.
Deutsch-Aserbaidschanisches Forum*:
Hanns-Eberhard Schleyer
Chairman of the Board
Former State Secretary, Secretary General of the German Confederation of Skilled Crafts (1989-2010), Member of the National Standards Control Council, Lawyer
Otto Hauser
Honorary Chairman
Government Spokesman and former Parliamentary State Secretary
Helga Daub
Vice-Chairwoman
Former Member of the German Bundestag
Prof. Dr. mult. Reza Talebi-Daryani
Vice Chairman
Tempus Coordinator for Azerbaijan, FH Cologne
Joerg Bongartz
Treasurer
CEO for Central and Eastern Europe, Regional Management, Deutsche Bank AG
Parvis O. Yazdani
Managing Director, Lawyer
Dr. August Hanning
Member of the Board of Directors
President of the Federal Intelligence Service (ret.)
Elmar Mamedov
Member of the Board of Directors
CEO SOCAR-Germany
Dr. Hans-Friedrich von Ploetz
Member of the Board of Directors
Botschafter a.D. (Botschafter in der NATO, im Vereinigten Königreich und in der
Russischen Föderation), Staatsekretär a.D.
Samira Patzer-Ismailova
Member of the Board of Directors
President of the European Congress of Azerbaijanis
Prof. Dr. Udo Steinbach
Member of the Board of Directors
Direktor des Deutschen Orient-Instituts, Hamburg (1976 bis 2006), Leiter des Governance
Center Middle East/North Africa an der HUMBOLDT-VIADRINA School of Governance, Berlin
Prof. Dr. Wilfried Fuhrmann
Member of the Board of Directors
University Potsdam
Norbert Schwientek
Member of the Board of Directors
Degree in Economics, KfW Kreditanstalt für Wiederaufbau and Federal Ministry of Environment (1990-2002), International Financial Consultant
Bahattin Kaya
Owner Kaya Travel
Dr. Richard Kiessler
Co-opted Member of the Executive Board
Editor-in-Chief at the WAZ Media Group (until 2011), Special Correspondent Foreign Affairs of the WAZ Media Group, Publicist
Kuratorium
Hans-Dietrich Genscher † (Ehrenvorsitzender)
Former Foreign Minister
Michael Glos,
Member of the Bundestag, former Federal Minister for Economic Affairs
Günter Verheugen
Former Minister of State at the Federal Foreign Office, former Federal Secretary of the SPD. Vice-President of the European Commission and former EU Commissioner.
Johannes Kahrs
Chairman of the Kurt Schumacher Society, MdB (ret.)
Berti Vogts
Coach of the German national football team (1990-1998), coach of the Azerbaijani national football team
Fritjof von Nordenskjöld
Ambassador (ret.) (Rome and Paris), Deputy President of the German Council on Foreign Relations
Prof. Dr. Rainer Lindner
Former Managing Director of the Committee on Eastern European Economic Relations
Knut Teske
Head of the Axel Springer School of Journalism (2002-2007), Vice-President of the German-Israeli Society, Journalist
Prof. Dr. Eva-Maria Auch
Chair of the History of Azerbaijan, Humboldt University Berlin
Reinhold Robbe
President of the German-Israeli Society, Vice President of the German Atlantic Society
Günter Nooke
Federal Government Commissioner for Human Rights Policy and Humanitarian Aid (2006-2010)
Karl-J. Kraus
Roland Berger Strategy Consultants
Dr. Michael Jansen
Former State Secretary and Head of the Office of the Federal President; Chairman of the Board of Trustees of the Foundation "Remembrance, Responsibility and Future
Tessen von Heydebreck
Member of the Board of Managing Directors of Deutsche Bank (1994-2007), Chairman of the Board of Deutsche Bank Foundation
Ulrich Leo Bettermann
Founding member and permanent member of the World Economic Forum in Davos
Peter Tils (Founding member)
Former CEO for Central and Eastern Europe, Regional Management, Deutsche Bank AG

———————————————————–
[*]
The list of SPD, Left Party, AfD and NPD politicians, which also have preferences for Azerbaijani caviar, is shorter and not as politically relevant as the list of CDU/CSU/EPP politicians. For this reason, a list of CDU/CSU politicians has been drawn up first. The other lists are currently being planned. Some politicians from other parties can be taken from the list of the Deutsch-Aserbaidschanisches-Forum.
The DAF is interesting anyway: On the one hand, high-ranking personnel from politics, business and science are listed online and without any objections from those listed. On the other hand, when asked by telephone, DAF claims that the persons in question had only given lectures at a conference and had nothing else to do with the DAF. In any case, the list of the DAF and further research clearly shows that not only politicians, but also high-ranking intelligence officers, military officers, business economists, journalists and scientists cultivate an unusual closeness to Azerbaijan, thus enabling the Aliyev-clan to corrupt the entire spectrum of the repressive and ideological power of the BRD. Corruption is holistically targeted at all major institutions of society:
Public and private educational institutions, politicians, secret services, etc., i.e.:
economy, culture, education, research, media, security, politics.
A more complex, sociological analysis of Azerbaijan's corruption is therefore being planned, analogous to the list of other parties. For those who would like to have a comparison with the cultural-industry: with each new blog, a sphere of society will be added, just as in The Wire, a new social instance is added each season in order to finally expose the problem as a self reproducing system, including subsystems (education system, police system, prison system, journalism, etc.):
Could this (systemic analysis of AZ-corruption) be a topic for an honorary doctoral thesis?
If so: Just call Laemmergeier.info.